Guest post by Angela Pagliaro, Information Assistant, Mabel Smith Douglass Library
The new MakerBot 3D printer is up and running in the Fordham Commons on the lower floor of the Mabel Smith Douglass Library. Learn more about the Makerspace on our LibGuide. 
Having 3D printers at Rutgers is a game changer for the humanities. Students now have a tool that allows them to engage and replicate content from the classroom. Having this type of technology creates endless possibilities of how students can interact with content. These types of interactions are essential for creativity and learning in the humanities, for more information about art and archaeology and 3D printing, check out this article from the Journal of Digital Humanities.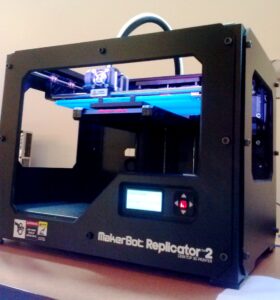 With these printers now at Rutgers, students and faculty have an opportunity to learn actively and create tangible items that can help others learn. The space is not one of designated silence but instead one where any subject can take physical form.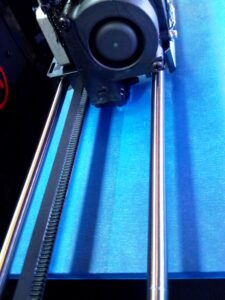 If history classes that study the layout of ancient Rome or Nebuchadnezzar's garden, they can be replicated and brought to life with the 3D printer. Students can spend more time thinking about the details of the content and truly engaging with what they're learning instead of obtaining the information passively. Technology has relevance to any area of study, especially the humanities, since maker culture is about designing, building, and repurposing.
For more information about the makerbot, contact Stacey Carton (sacarton@rci.rutgers.edu)