At the Aresty Undergraduate Research Symposium on Friday April 24, 2015 Aya Sakar '15 and Kelly Jin '17 presented 2 projects they have worked since September 2014. Both projects explore different aspects of the history of Douglass College.
Aya' project Perspectives on Diversity and Multiculturalism on Douglass Campus, from the 1920s to the 1950s identifies women of color from Quair yearbooks and track their post-Douglass years with the archival material from the Associate Alumnae of Douglass College and other sources. The majority of women became teachers and librarians. Although most women were from from New Jersey, there were international students from Japan, Egypt, India, China, and Iran. This project received one of the three honorable mention awards in the Humanities Category.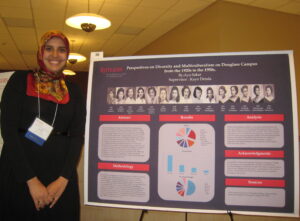 Kelly's project Mapping Douglass Campus, 1920s to 1950s, consists of an interactive historical map (ThingLink)  embedded with images of buildings and quotes about the buildings by the founding Dean Mabel Smith Douglass, passages from Alumnae Bulletin, and quotes from Douglass alumnae from the Douglass Alumnae Oral History Project interviews.  Kelly hopes this interactive map can introduce incoming Douglass Residential College students more accessible information on college history.